Automatic poultry scale BAT2
With Innov' Space Award and World Poultry Award, the BAT2 poultry scale is the technological leader in automatic poultry weighing.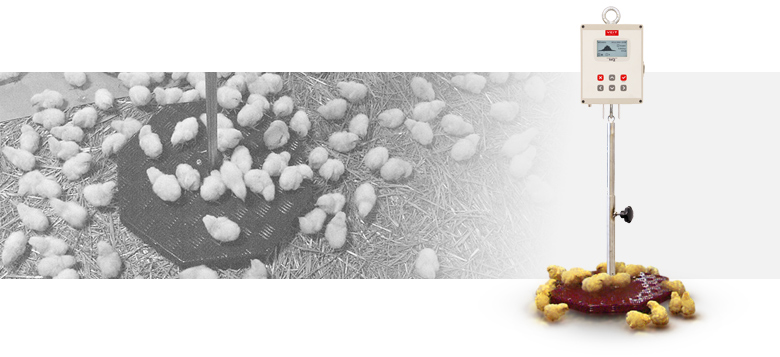 Intelligent weighing
Savings on time

No staff is needed for weighing with an automatic scale. Consider how much you save on salaries weekly, yearly, in several years etc. > See savings with VEIT scales in numbers

Daily statistics

BAT2 is installed at one place for 24 hours a day and it can record data all the time. It works continuously and brings statistics each and every day so you can react promptly.

Compact design

Thanks to the compact design, scale installation is simple and quick. Moreover, the design of the hanging platforms tempts the birds to jump on (which we need to weigh them) and has a telescopic rod enabling it to lift the platform gradually as the litter accumulates on the floor.

Large graphic display

The large graphic display can show more data and is easy to read for everyone. In addition the weighing results can be comfortably processed directly in the scale.

Automatic gender differentiation

According to the detected weights BAT2 can recognize male and female. The statistics can be calculated for each sex separately.

Processing data directly in the scale

You can view all statistics and histograms directly in the scale. It is even possible to compare real results with theoretic growth curves. Up to 370 days can be stored in the memory and used for statistics.

Wide range of languages

Firmware of the scale is translated into 8 languages so far. Choose the one you prefer.

             

 
Ways of communication
Wireless communication

Thanks to an integrated GSM module inside the BAT2 Full, the scale can send daily statistics directly to your mobile phone. With a GSM modem the statistics will also be sent to your computer. Anywhere in the world you will receive fresh results from all your farms. Whole wireless networks can be created very easily and at low cost. Overseeing and managing large productions has never been easier. Read about the BAT2 scales with the GSM communication used in Austria.

Wired communication

If you install several scales at one farm – be it in one house or more – all the scales can be simply connected by wire to one central PC in the office. All the scales in the network can be monitored and fully operated from the office. MODBUS protocol is used for communication, so the scales can also be connected to any PLC or other devices using this communication standard. Do not hesitate to ask us about this technicality. Read more about connecting BAT2 scales into the RS-485 network.

Memory module

The memory module is a portable device similar to a flash drive (USB stick). It is used for:

Transferring weighing results from the scale to the PC
Transferring setup from the PC to the scale
Transferring data between several scales

After downloading the data from the scale, just go to your PC, plug in the memory module and read the results. The memory module always comes together with the PC software.

 
Sophisticated PC software
Automatic data processing

Forget about calculating anything on your own and processing the data manually in Excel tables. The powerful BAT2 software automatically shows statistics, histograms and growth curves of all your scales installed on your farm.

Flocks management

Within the BAT2 software you can manage your flocks very effectively. You can compare individual flocks on your farm, compare the performance of individual farms within your company, the performance of your flocks with standard growth curves and much more.

Additional functions

All the data can be exported to Microsoft Excel or printed. With the installed software it is also possible to set the scales from the computer. BAT2 software is compatible with all ways of communication between the scale and your PC – GSM transfer, wired communication and memory module.

 
To satisfy all customers´ requirements, VEIT offers three versions of the BAT2 automatic scale
:
BAT2 Lite is a simple model with limited features. Not all weighing functions are available and there is no possibility of using the PC software. All data and statistics are accessible only on the display of the scale. We offer this model as a low-budget solution.
BAT2 Full is designed to provide all the extras you can imagine in automatic poultry weighing. Furthermore, you can decide about specific functions of your BAT2 Full. For example, you can choose the most suitable data transmission between the scale and your PC, the most convenient platform or expand the possibilities with other options. Get a scale according to your visions.
BAT2 Duo comes with two weighing platforms that are placed in different locations in the poultry house. The scale uses both platforms simultaneously to get weighing data and to calculate accurate results. Data collected from both weighing platforms can be downloaded via BAT Drop application or sent to the BAT Cloud for in-depth analysis.
Accessories and OPTIONS
External battery

The standard BAT2 requires connection to electricity. With an optional external battery the scale is fully independent of the mains. The battery also helps in situations when the scale has to be moved frequently. Since the installation is totally wireless, moving the scale is very simple and quick. The battery life is more than 15 days so the only thing you have to do is swap the old battery with a charged one every two weeks.

PC communication module

To give you more freedom in decision-making and costs management, our basic BAT2 Full package is delivered without PC software. The PC communication module is therefore optional and includes the PC software for BAT2 Full and a memory module with accessories.

GSM module and GSM modem

To receive daily statistics via text messages on your mobile phone you need BAT2 Full with an integrated GSM module. To receive the statistics wirelessly on your PC also get an external GSM modem. If you require data transmission from e.g. 10 scales to one central PC, then a GSM module inside each of the 10 scales but only one GSM modem is needed.

RS485 communication module

If you like the idea of wired communication, we will deliver BAT2 Full scales each with an integrated RS-485 module. We recommend this solution if you plan to install several scales on one farm and connect them to one central computer.

Wide range of platforms

Four types and sizes of platforms are available to connect with BAT2. Just choose the most suitable one according to the poultry that you breed.

LAN and Wi-Fi connection

All scales installed on a farm can be connected to LAN or Wi-Fi.
Specifications
 
Automatic scale BAT2 Lite
Automatic scale BAT2 Full
Maximum weight

50 or 100 kg (according to chosen platform) 

Power
6 - 9 V DC
Memory capacity
55 days
370 days 
Battery life
15 days
Software
-
Windows 2000/XP/Vista/7
Statistic calculations:   
Number of birds weighed
 
 
Average weight
 
 
Daily gain
 
 
Standard deviation
 
 
Coefficient of variation
 
 
Uniformity   
 
 
Histogram
 
 
Difference from a standard growth curve
 
 
Males and females differentiation