Charging BAT1 scale while travelling
The BAT1 scale is a highly portable device. When travelling with the scale, charging on the way is essential. We kept this in mind during the development, so the scale can be charged from a car and also from a notebook.
Charging from a notebook
also from the notebook. Just connect the scale to the USB port and the battery in the scale will be charged. If there is no electricity in the area, you can use the energy in the notebook battery to charge the scale several times.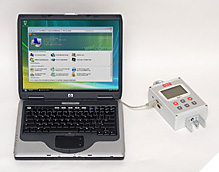 Charging in a car
Each scale contains a car charger, which can be used to charge the scale from a cigarette lighter connector in the car.
Connect the scale to the charger every time you travel with the scale; this way you can be sure that the scale is charged when you come to the farm.